Due to advances in production capabilities over the last 30 years, the custom silicone extrusion process has become more accessible. Subsequently, silicone has become the go-to elastomer for use in engineered products.
What is Silicone Rubber Extrusion?
Silicone rubber extrusion is a process where solid silicone rubber is pushed or pulled through a die of the desired cross-section to form continuous profiles. The flexibility of silicone allows for the production of intricate shapes that are not possible with other materials.
Extrusion Silicone Compound Instructions
The silicone compound used in extrusion is extremely resilient to vibration, thermal shock, and shifting climatic conditions. It is ideal for a variety of applications because of its exceptional tear strength and abrasion resistance. Extrusion silicone compound is perfect for the electronics, automotive, and medical industries since it also has superior electrical insulation qualities. To satisfy the needs of the consumer, the low-toxicity material is offered in a variety of hues, textures, and forms. It is a fantastic choice for outdoor applications due to its outstanding weather ability. Extrusion silicone compound is certain to satisfy the needs of your projects thanks to its exceptional qualities.
Silicone Extrusion Shapes
At LgdSilicone, we can provide silicone extrusions in a broad range of profiles, including:
"D" profiles provide a soft seal and can be solid or hollow
"e" profiles contain a hollow seal and groove
"H" profiles seal two adjoining panels
"L" profiles for corner applications
"T" profiles are commonly used for food packaging
"U" profiles provide edge protection for panels
Custom profiles
Typical Applications of Extruded Silicone Profiles
Automotive – Seals & Gaskets
Aerospace and military Seals & Gaskets
Meat Processing – Hatch Seal, Chamber Seals
Lighting Industries-
Construction -(door seals, window seals, protective seals between glass & steels)
Dairy Fluid Handling Tubing and Dairy Seals
Electronic washers, spacers, and seals
Door Seals & Gaskets
Oven and manway seals
High-temperature sealing
HVAC Equipment – wire seals, sealing chambers conditioning
Rail and Mass Transit Seals
Oil & Gas resistant seals
Pharmaceutical USP Class Vi Tubing and Custom Seals
Medical silicone extrusion:tubing
Our Silicone Material Complies with the following
FDA Regulation 21CFR177.2600 For Food Contact
NSF 51 Approved Material
Chemical Resistance
3A Sanitary
ZZ-R-765 Overtaken by A-A59588
ASTM D2000, AMS 3304
USP CL-VI Material
High-Temperature Silicone
10 Shore A to 90 Shore A
The Silicone Extrusion Process

1. The silicone compound is fed into the extruder
2. The next step involves feeding of materials in the feed hopper
3. The material is then fed into different flutes present in the revolving screw
4. The screw will start carrying the rubber into the die forward and pressure as the material gets close to the die
5. The silicone is then forced through the extrusion die to form the required profile
6. Finally,the extruded profile passes through an oven that cures the product with radiant heat
Silicone Extrusion Features
Although a multitude of silicone component types can be produced using the extrusion technique, all silicone extrusions share the following common characteristics:
Biocompatibility. Silicone is generally non-toxic and non-allergenic. Due to the fact that it normally has no adverse effects when in contact with human skin or tissue, this property makes it excellent for use in medical devices.
Good chemical resistance. Since silicone is an inert substance that won't react with most chemicals, it's simple to clean and suitable for some process applications. However, some concentrated acids have the potential to dissolve silicone, therefore it's crucial to determine whether the chosen material is compatible with the chemicals used in the intended application.
Good elastic memory. When subjected to strong pressures or compressive forces, silicone continuously tries to take its previous shape.
Strong dielectric properties. Extruded silicone materials function well as electrical insulators and won't degrade or become conductive when exposed to current on a frequent basis.
Transparent in appearance. Extruded silicone is comparatively transparent, making it simple to color in applications with particular esthetic or organizational requirements. Moreover, it makes it ideal for the production of clear tubing.
Resistant to extreme heat. The majority of silicone extrusions are able to withstand temperatures of up to 500°F.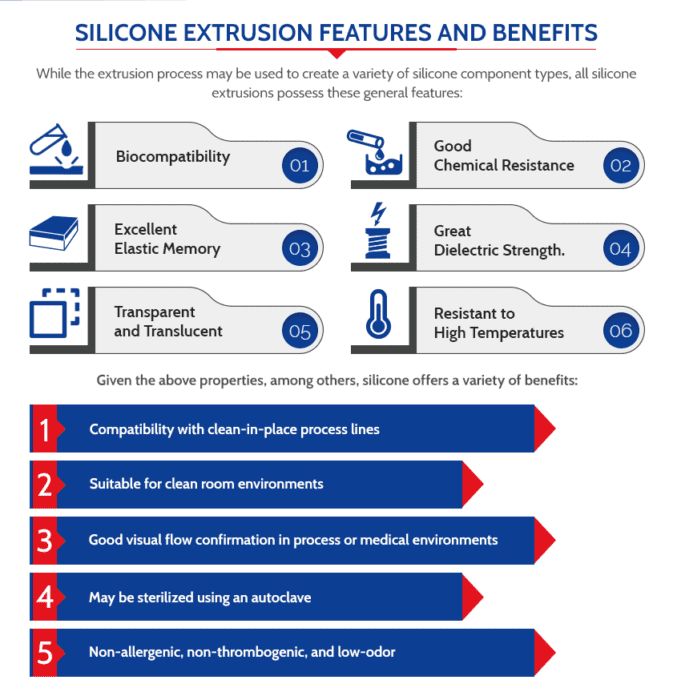 Benefits of Silicone Extrusion
compatibility with clean-in-place manufacturing processes
appropriate for cleanroom settings
dependable visual flow confirmation in industrial or medical settings
using an autoclave to sterilize
low-odor, non-thrombogenic, and non-allergenic
Silicone Extrusion Machine
silicone extrusion machine is designed to help manufacturers create a variety of shapes, sizes, and textures of silicone products. silicone extrusion line uses full-automation systems to reduce errors while increasing precision. It can quickly switch between tooling sets, allowing for quick production changes without any additional setup time. This advanced technology ensures that silicone products manufactured using an extrusion machine are of the highest quality. Furthermore, this equipment is easy to maintain and clean due to its simple construction, allowing for efficient production without sacrificing safety or hygiene standards.
Silicone Extrusion Specifications
Tips: Custom Silicone Extrusions Manufactured to Your Exact Specifications
| | |
| --- | --- |
| Capabilities | Single, co-extrusion, tri-extrusion |
| Extrusion process | Multi-lumen, multi-durometer, multi-color, insert |
| Cross-section | 0.010" to 3" |
| Custom formulations | Mechanical properties, chemical resistance, temperature resistance, electrical properties, thermal properties, color matching |
| Value-added services | Die cutting, adhesive application, cutting, bonding, frame and O-ring fabrication, special put-ups, special packaging, PSA application |
| Production capabilities | Low to high volumes |
| Lead times | Calculated per project |
| Certifications/Standards | ISO 9001:2015, FDA 21CFR177.2600, NSF-51, 3A, USP-VI, Mil-Spec (ZZ-R-765, A-A 59588, AMS 3304, ASTMD2000 GE) |
| | |
Silicone Extrusions FAQs
Can silicone be extruded?
The method of forcing silicone through a shaped die to make a continuous length of material with intricate cross-sections and profiles is known as silicone extrusion. Since silicone is a synthetic rubber, its elastic qualities make it the perfect substance to employ in extrusion.
How does silicone extrusion work?
What is the extrusion process for silicone rubber?
A heat-cured silicone (HCR) compound containing a catalyst is prepared into a strip or slab to start the process. ​ ​
Afterward, a screw extruder is loaded with the silicone perform, forcing the compound through a die made of hardened steel. The extruder head secures the die, and after the silicone rubber is pressed through the die, the die gives the silicone rubber its shape.
What temperature do you extrude silicone rubber?
The extrusion is processed in either a horizontal chamber heated to 250-500°C or a vertical chamber heated to 700°C. Extrusions with small cross sections vulcanize in a matter of seconds, while those with bigger cross sections take a proportionately longer time.
Specialist Silicone Extrusion Manufacturing
We can manufacture one-off specialist extrusions specific to your project. Please contact us for assistance and advice or learn more about silicone Extrusion Manufacturer detail.