Silicone Gasket Materials Guide
A silicone gasket offers a mechanical seal to fill the gap between surfaces in a device. It is the silicone substance or item that fills a gap between parts (ingress or egress) (ingress or egress). Silicone gaskets may be created from various forms of silicone, including solid silicone, silicone foam, silicone sponge, molded silicone, and 3D-printed silicone. Silicone gaskets are available in various colors, durometers, chemistries, and additive packages.
Other qualities of high-performance silicone gaskets include:
Range of thermal/electrical conductivity or insulation
UV and ozone resistance
Consistent mechanical performance across a wide range of temperatures
Excellent compatibility with a wide array of other materials
Benefits of Silicone Gaskets
There are millions of materials available for constructing gaskets, but silicone gaskets stand out because of their numerous benefits. They can be used in both indoor and outdoor settings.
Ability To Withstand High And Low Temperatures
Silicone gaskets are ideal for many industrial applications because they can withstand temperatures of up to 392 degrees Fahrenheit continuously, without degrading or wearing out. Additionally, they can tolerate heat up to 428 degrees Fahrenheit on an intermittent basis.
In addition to being heat-resistant, silicone gaskets remain flexible even at extremely cold temperatures. They can withstand temperatures as low as -94 degrees Fahrenheit.
Excellent Insulation
Silicone gaskets are good insulators of electricity. By combining silicone with nickel-graphite or silver-plated aluminum particles, they can also filter electromagnetic interference (EMI) due to their conductive qualities. This is particularly important for electrical devices.
Silicones are widely used in high-voltage insulators and other electrical components. They can be cross-linked by different chemical processes, rendering them non-reactive at high temperatures. The electrical sector relies heavily on these non-reactive materials.
When electromagnetic discharge is an issue, silicone can be combined with semi-conductive carbon to provide electromagnetic discharge protection.
Highly Durable
Silicone gaskets are incredibly durable, as they are resistant to UV radiation, ozone, and harsh weather conditions. This makes them perfect for outdoor use. Additionally, their longevity makes them an inexpensive option. They are a dependable and stable substance that can be used for a long period without exhibiting wear, and they don't require a lot of maintenance after installation.
Fda Approved
Silicone gaskets are FDA-approved, making them suitable for use in medical equipment, healthcare instruments, and food processing plants. They can also be blended with other FDA-approved compounds to produce high tear strength.
In contrast to asbestos gaskets, silicone gaskets are medically inert, meaning they are not toxic and do not harm humans. These properties make silicone gaskets essential for industries such as healthcare, food processing, medical diagnostics, and pharmaceuticals.
Flame Retardant
Silicone gaskets have low flammability levels, which makes them appropriate for businesses that generate significant heat. They can be employed in telecommunications equipment and public transit systems.
Silicone gaskets fulfill the testing criteria from Underwriters Laboratories (UL) for fire safety and flame resistance. This means that silicon gaskets can achieve UL94V0, UL94V1, and UL94HF1 flammability criteria.
Water-repelling Material
Silicone gaskets are manufactured with a water-repellent substance, which effectively repels rainwater and combats moisture. These features make them an excellent choice for businesses that handle moisture or water, as well as for outdoor applications in damp weather conditions.
Silicone gaskets maintain a watertight seal, ensuring that your business remains dry and moisture-free, even in challenging environments.
Silicone gaskets can be classed in various different ways. For example, solid silicone gaskets and sponge silicone gaskets are separate because they have different molecular structures. Hardness or durometer also distinguishes silicone sealing. Foam silicone gaskets may be soft like sponge silicone gaskets, but foam silicones are separate because they include different components and employ other curing procedures. Interstate die cuts all of these silicone gasket kinds.
Solid silicone gaskets are comprised of solid rubber components with a tightly-packed molecular structure.
They have lower durometers (hardness) and compression rates than sponge silicones
Not all solid silicones are "soft"
Lower-durometer solid silicones provide robust environmental sealing with low closure force
Solid silicone gaskets with mid-range durometers require increased closing force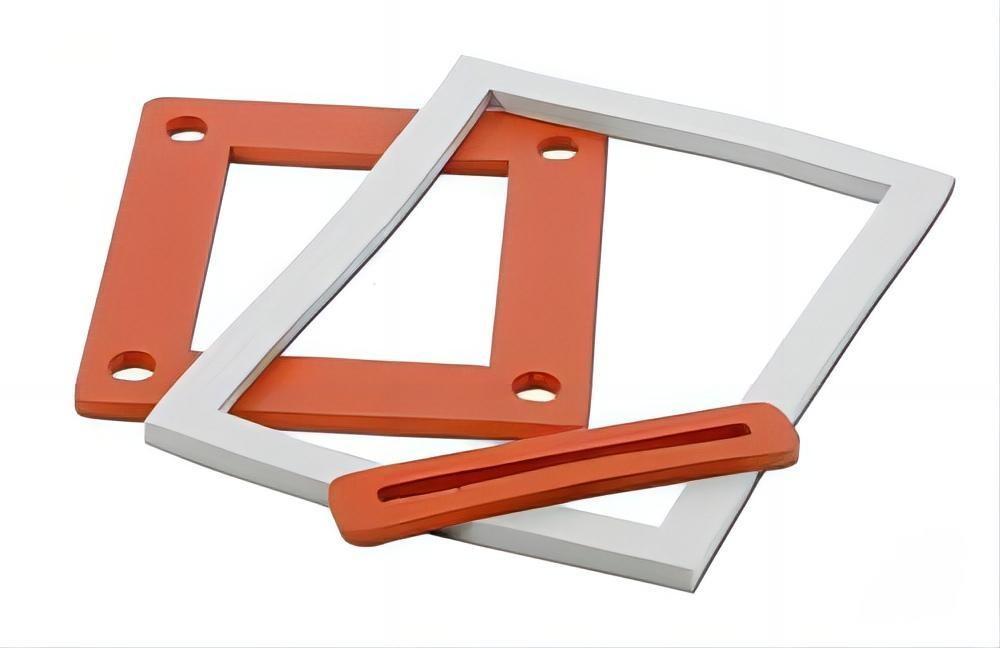 Sponge silicone gaskets are comprised of sponge-like silicone compounds that provide cushioning and padding. Interstate die cuts both primary types of sponge silicone materials: open-cell and closed-cell.
Open-cell silicone gaskets have linked pockets that unless the gasket is squeezed, enable water, chemicals, and air to flow
Closed-cell silicone gaskets are filled with nitrogen gas to block the passage of these compounds at low pressures
Foam silicone gaskets are constructed of soft, medium, firm, or extra-firm silicone grades for varied quantities of compressibility.
They have a lower compression set than sponge silicone gaskets
Provide greater flame resistance
The die cuts the three primary forms of foam silicone materials: open-cell, closed-cell, and silicone rubber which contains both open and closed cells. Like solid silicones and sponge silicones, foam silicones have diverse uses.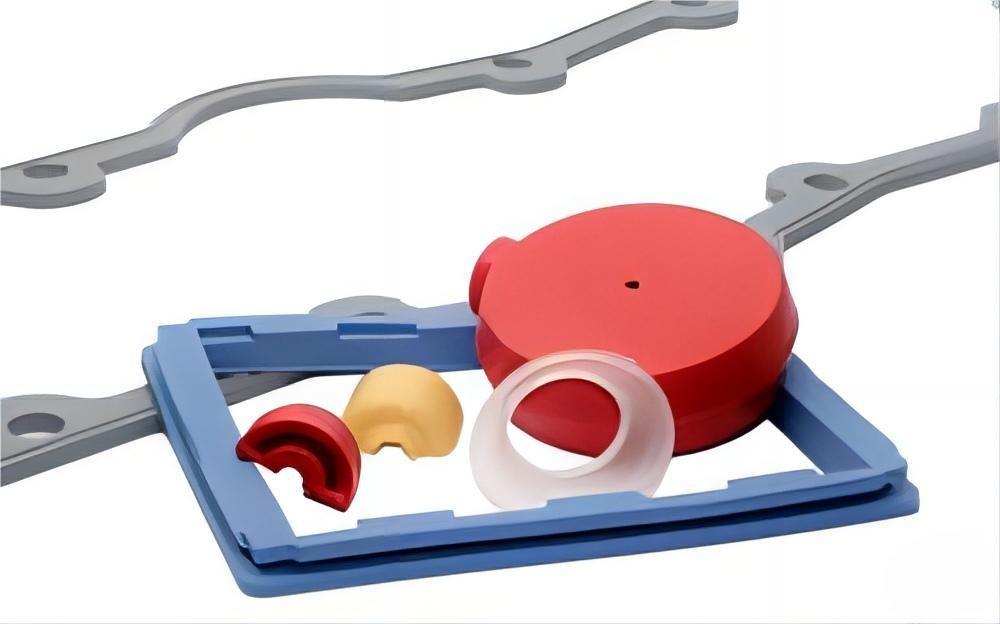 Injection Molded Silicone Gaskets
Molded silicone seals with round or bespoke cross-sections are commonly required for high wash down (IP66 or NEMA 4) or water submersion requirements. Liquid silicone rubber (LSR) permits very tiny cross sections, down to .030″, to be molded in durometers from 10 to 70 Shore A. Using injection molded liquid silicone rubber, separating line flash may be eliminated to guarantee sealing integrity. Get our handy Liquid Silicone Touch brochure to assist in developing enclosure sealing.
At a Glance: Injection Molded Silicone Gaskets
Excellent for intense water spray and submersion
Broad durometer range (10 – 70 Shore A) (10 – 70 Shore A)
Molding enables unique three-dimensional pieces
Large temperature range (-67°F to 392°F)
UV and ozone resistance
Specialty Silicone Gasket Materials
Silicone gasket materials are widely utilized in different sectors for their superior qualities, such as high-temperature resistance, chemical resistance, and flexibility. These gaskets are produced from silicone rubber, which is a synthetic elastomer that can endure high temperatures ranging from -55°C to 300°C. They are extensively utilized in automotive, aerospace, and food processing sectors.
Platinum Cure Silicone Elastomers
Every elastomer in LGDSilicone Products' range is cured with heat and platinum, transparent, and complies with FDA guidelines for rubber items, United States Pharmacopeia and National Formulary (USP) Class VI criteria, and the European Union's Restriction of Hazardous Substances Directive (RoHS) (RoHS). Engineered for usage with food, these silicone materials are available in custom colors, sheets, and ready-to-mold compound form, as well as durometers ranging from 10 to 80.
Military and Aerospace Silicones
LGDSilicone Products offers a comprehensive array of silicone gasket materials that may fulfill even the most demanding military and aerospace applications. Fluorosilicone products in this class offer chemical and fuel resistance, whereas silicone rubber gasket materials are examined to military and aerospace specifications such as MIL-DTL-25988C and A-A-59588A. High- and low-temperature applications are no impediment for this array of silicones.
Particle-Filled Shielding Silicones
LGDSilicone Products offers a wide selection of electrically conductive EMI and RFI shielding silicone gasket materials in this category. These materials are ideal for satellite communications, automotive, unmanned systems, and aerospace applications. Fill materials include nickel aluminum, nickel graphite, silver aluminum, silver copper, silver glass, and silver nickel. Each material is offered as compression-molded sheet stock, continuous rolls, and uncured moldable compounds.
What Are the Uses of Silicone Gaskets?
Silicone gaskets can resist high and low temperatures making them a versatile material. You may use it for a broad number of purposes, including:
Food processing
Medical equipment
Industrial processes
Automobile engines
Aerospace
Pharmaceutical
Mobile technologies
Energy
Transportation
You can use silicone gaskets when you require a material with high-temperature resistance, a low compression set, and strong electrical insulation.
Properties of silicone gaskets

Silicone gaskets come in solid, foam, and sponge versions - making them an incredibly versatile alternative. It is a durable material with good temperature stability and does not react with many chemicals, making it typically innocuous. Silicone is a good gasket choice because it makes a tight seal and repels water. Moreover, its capacity to endure temperature fluctuations makes it preferable to many other forms of rubber. Solid silicone may be utilized with metal closures and requires good closure force. In contrast, the closed cell structure of silicone sponge and foam makes them suited for environmental sealing applications where lower closure forces are necessary.
Ideal for usage in either hot or low-temperature situations, the Silicone sponge's hardness is assessed in psi or density, with two to five psi or 250kg/m3 considered soft and 14 to 20 psi or 650kg/m3 considered firm. Silicone foam with a closed cell structure is therefore appropriate for an environmental enclosure. Silicone has strong compression set performance, but its rip strength The advantages of silicone include:
Flexible - It won't freeze or crack at high or cold temperatures.
Waterproof - It won't break down because of exposure to water.
Shrink-proof — It won't shrink throughout the course of its lifetime
Extremely good weather resistance – It is not vulnerable to ozone or UV assault
What are silicone gaskets used for?
In the building sector, doors and HVAC systems are sealed with silicone gaskets. They are utilized in industrial oven seals and equipment for food preparation. They are utilized for medical and healthcare devices in the sector.
Does silicone make a good gasket?
Silicone is a good choice for gaskets because it makes a tight seal and repels water. Moreover, its capacity to endure temperature fluctuations make it preferable to many other forms of rubber.
What are the disadvantages of silicone gaskets?
One of the biggest drawbacks of silicone rubber is its weak rip strength. This can be enhanced with the addition of additional chemicals, but it doesn't inherently give strength or abrasion resistance, therefore the application needs to be carefully analyzed for the suitability of silicone as a solution.
Is it OK to use silicone on rubber gasket?
Depending on what it's for but ultimately, yes. Silicone is what rubber is composed of. Silicone is used to "fill the gaps" depending on what gasket you refer to and if it is supposed to be removed later on.
How Do Silicone Gaskets Compare to Rubber Gaskets?

While rubber gaskets come from rubber trees, silicone gaskets are man-made. In certain situations, silicone gaskets can perform better and be more efficient. For instance, they are preferable when dealing with extremely high temperatures.
Natural rubber can effectively perform within a range of -58 to 176 degrees Fahrenheit, whereas silicone can endure severe temperatures from -58 degrees to 446 degrees. Natural rubber begins to wear out around 176 degrees and melts at 248 degrees.
Rubber cannot be used with ozone, strong acids, fats, oils, and grease. On the other hand, silicone can be utilized with these materials. Silicone gaskets are suitable in harsh weather conditions and for outdoor use with UV exposure.
Do you put silicone on both sides of a gasket?
Unless a primer is necessary, you should apply the sealant to the prepared surface. Apply an equal coat to all sides of the gasket.
Contact Your Silicone Gaskets Expert Today

By now, you should be familiar with everything there is to know about silicone gaskets, including all of their benefits. They are a flexible alternative for many different sectors. If you believe silicone gaskets are the best solution for your needs, you may be wondering where to acquire them.
You need a reliable firm that can help you with any difficulties, answer your inquiries, and provide the necessary experience. LGDsilicone is one such firm. LGDsilicone is also a prominent manufacturer known for making top-quality silicone gaskets. Contact us today to receive a customized quotation for your company's requirements.